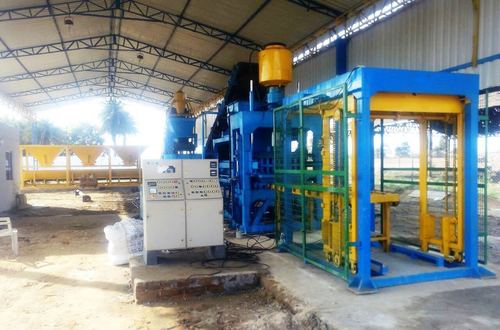 Product Description
AUTOMATIC HYDRAULIC BRICK MACHINE RBM-30
Heavy structure body with four nos. of shaft to guide the Ram Punch of Mould, Electric Panel (With Mitsubishi PLC,) Limit Switch/Proximity Sensors, Hopper, Cylinder Made by Honed Tube. Piston Is Hard Chrome. Production Capacity 28,000 to 32,000 Bricks/Shift. 10 H.P. Mould Vibrator, [Automatic material feeder and Pallet Feeder, Hydraulic operated, controlled by PLC
Hydraulic Power pack of 400 Ltr. Capacity, with Flange type motor, Douty Gear Pump, Yuken Valves, Oil filters at Incoming , outgoing and return line. Electric Motor 20HP 3PH of Crompton / Havells, Complete With Power Pack , Water cooler arrangement.

PAN MIXTURE
1 No. "Reva" Pan Mixer having capacity of 1200 Kgs. fitted with 2 Nos. heavy C.I.Rollers, fitted with changeable bottom wear plates fitted with mixing and discharge blades, having special alloy steel tips, complete with quality Worm Reduction Gear Box Elecon/Radicon make powered by 30 H.P./Electric Motor of Kirloskar/Crompton/Havells make with Star Delta Starter.
BELT CONVEYOR
1 No. "Reva" Belt Conveyor for loading and unloading the material of the Pan Mixer of app. 30 ft.and powered by 3 H.P.Electric Motor of Havells / ABB/ Siemens/Bharat Bijlee make fitted with quality gear box with starter. The conveyor is fitted with rubber top nylon conveyor belt and is moving on frictionless idlers
MOULD
(24 Cavity). 24 Bricks/Stroke with Frog (Name in Brick).
Pallet Trucks
4 Nos. "Reva" Pallet Trucks are fitted with hydraulic lifting, hand pumping and manual dragging arrangement with lift capacity of 1000 Kgs.
Finished Fly-Ash Bricks Pallet Conveyor , powered by 01 H.P. Geared Motor.